Inspired by Iceland seminar at NASF 2019
6 March 2019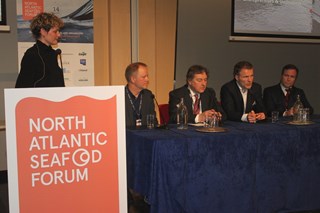 The Icelandic Delegation at NASF consists of 21 Icelandic companies (Arion Bank, Arnarlax, Curio, D-Tech, Fisheries Iceland, Habrun, HB Grandi, Iceland Responsible Fisheries, Íslandsstofa, Marel, Matís, MSC Iceland, Polar Doors, Samskip, Skaginn 3X, Sæplast, Trackwell, VAKI, Valka, Viðskiptaþróun and Vísir) representing the diversity of the country's seafood industry.
Stella Björg Kristinsdóttir, Marketing Manager Marel Fish and member of the NASF2019 Icelandic delegation opened the seminar and here below are the presentations from the "Inspired by Iceland" seminar today:
"Effective decision-making for sustainable fishing" - Steingrímur Gunnarsson, Sales Manager, Trackwell
"Innovating with vision" - Sigurður Ólason, Managing Director, Marel Fish (EVP)
"Seashuttle" - Are Grathen, Managing Director, Samskip
"Improving fish quality and volume utilization with twin containers" - Dr. Björn Margeirsson, Research Manager, Sæplast
"Controlling fishing trawl for selective fishing." - Atli Már Jósafatsson, Managing Director, Polar Doors.
"The first high-precision Computer-controlled Collarbone cutter for whitefish" - Axel Pétur Ásgeirsson, Marketing manager, Curio.
"From Primary to Premium" – Guðmundur Gíslason, Ice Fish Farm (Fiskeldi Austfjarda hf.)
"Increasing Processing Value while Meeting more Demanding Customers Requirements" - Kristján Kristjánsson, General manager, Valka Norway.
After the presentation the topics were discussed further in a panel with Guðmundur Kristjansson from HB Grandi, Sigurður Ólason from Marel, Kjartan Ólafsson from Arnarlax and Magni Veturliðason from Skaginn 3X AS.  The panel discussion was moderated by Helga Sigurrós Valgeirsdóttir from Arion Bank. After the panel the Icelandic Delegation invited guests to a reception which was sponsored by Arion Bank.