Golden redfish charms German consumers
30 January 2019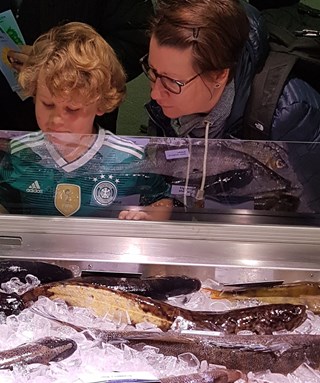 Iceland Responsible Fisheries (IRF) introduced Icelandic golden redfish to German consumers at "Grüne Woche", a large Food and Agricultural Trade Show which is held annually in Berlin.
IRF took part in the trade show in cooperation with Fisch-Informationszentrum (FIZ) from Hamburg and they shared a booth. FIZ promotes the health benefits of eating seafood and more fish to Germans. This is the fourth time that IRF and FIZ take part in Grüne Woche together.
Icelandic golden redfish was presented under the IRF brand and guests at the trade show were offered a taste of pan-fried golden redfish. Julia Klöckner, Germany's Federal Minister for Food, Agriculture and Consumer Protection, was one of the people that tasted the Icelandic golden redfish. She visited the booth on the first day of the trade show, along with many media representatives. The trade show lasted a total of 10 days, from the 18th-27th of January.
A representative for IRF/Promote Iceland distributed brochures to interested parties, including recipes and general information about the destination Iceland. Guests had the chance to win aprons and Icelandic salt if they were able to answer questions about Iceland, the most important species of fish in Iceland and the Icelandic Handball Team which was playing at the Team Handball World Championship in Germany at this time. Visitors to the booth could also participate in a sweepstake to win an "Iceland-dinner" at the Michelin restaurant FACIL in Berlin. There were many participants and the winners were Kerstin Von Dreden from Hamburg and Sandra Böhm from Berlin.
Food producers from all over the world introduce their produce at Grüne Woche with a total of 1,500 participants coming from 65 countries. Around 380,000 guests visit the show each year, mostly the general public but amongst them there are around 85,000 professionals.