UK Fish & Chips Industry Visit Iceland
9 March 2022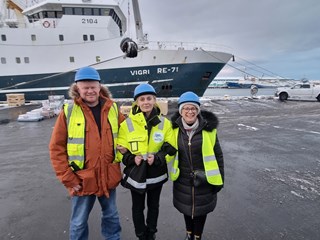 In February, the marketing group Seafood from Iceland invited several key players from the UK Fish & Chips industry to Iceland. The goal of the visit was to introduce them to Iceland's quality fish, network with fisheries companies, and discuss possible promotional cooperation in the UK marketplace.
It probably does not surprise our readers that fish & chips are a traditional and popular fast food in the UK. There are over 10,500 fish & chips restaurants in the country! For comparison, the number of McDonald's locations is approximately 1,300 and Kentucky Fried Chicken around 900. Iceland is an important supplier to the British market, especially for sea-frozen cod and haddock fillets.
Our guests from the UK included Andrew Crook and Josette Foster, representing the National Federation of Fish Friers (NFFF). Their tour was busy with visits to seafood companies Brim, Matís, Iceland Seafood, Fiskistofa, Þorbjörn, etc., where they received warm welcomes.
Josette Foster, a board member of the NFFF and owner of the fish & chips restaurant Weston Grove in Chester, was delighted with the stay. Josette said, "This has been a very special visit for me. What a beautiful and fascinating country! As a user of Icelandic cod and haddock, I gained valuable insight into how the fish for my shop is caught and prepared under strict controls to ensure sustainability. The warm welcome and hospitality we have received from the Icelandic businesses have been amazing. Our future plans to work collaboratively with Business Iceland are very exciting."
Andrew Crook is the president of the NFFF and runs the restaurant Skippers of Euxton in the northwest of England. Andrew likes to say that he started in the fish & chips business when he began peeling potatoes at nine years old! For many years, Andrew has been a strong advocate for fish & chips stakeholders. It was his first visit to Iceland, and he was impressed. He said, "This was a fantastic opportunity to see the processing, different products, and the tremendous research and technology that goes into producing quality seafood. We look forward to working with Business Iceland and spreading the message about Icelandic fish and seafood."
Julie Waites, executive director of the Frozen at Sea Fillet Association (FASFA), did not make it to Iceland but participated in the online meeting before and during the visit. Julie said, "We have a great trading relationship with Iceland, but the meetings allowed further collaboration to take place to strengthen this. It was useful to learn about the new developments, fisheries management, and advances in technology that highlight that cod and haddock caught in the North Atlantic are from highly managed and sustainable fisheries."
In addition to numerous visits and meetings, Andrew and Josette also managed to see the country's beauty and experience a gusty Icelandic snowstorm firsthand! They ate plenty of high-quality fish cooked in various ways, and they were unanimous that they would visit again. They learned a lot about Iceland, Icelandic fish, science-based sustainable fishing practices, and Icelanders. Stories they will undoubtedly pass on to their customers for years to come.
---