Responsible Fisheries Workshop in London
8 February 2011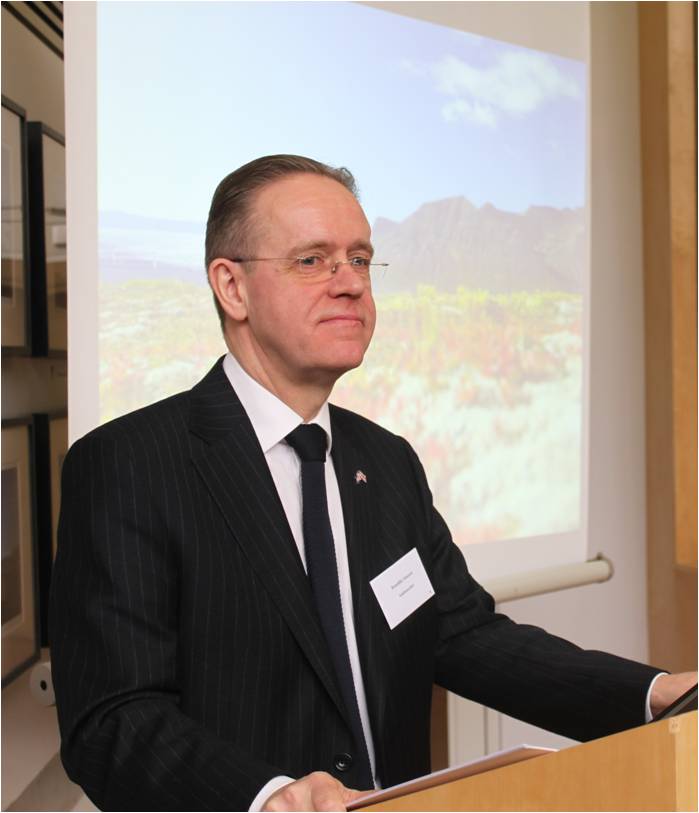 The fourth "Responsible Fisheries Workshop" was held at the Embassy of Iceland  in London on 3 February 2011. It was very well received by the 60 attendees, buyers of Icelandic fish from British supermarkets, and other guests.
Ambassador Benedikt Jónsson welcomed the guests, this was followed by a lecture from Dr. Kristján Thórarinsson, vice-chairman of the Fisheries Association of Iceland. He gave an update on "The project for FAO-ISO based certification of responsible fisheries management". Peter Marshall, CEO, Global Trust Certification Ltd. delivered a lecture on "Certification of Icelandic cod to FAO-ISO based model" and Eggert Benedikt Guðmundsson, CEO, HB-Grandi Ltd. and Chairman of the IRF promotion group talked about "The market impact and promotion of the Iceland responsible fisheries programme". 
Jóhann Sigurjónsson, Director General, Marine Research Institute gave an informing lecture on "The biology, stock status and outlook for cod, haddock and other species in Icelandic waters" and Tómas H. Heidar, Legal Adviser, Ministry for foreign affairs  talked about "International law and agreements on management of shared stocks". The Ambassador delivered a message of support  from the President of Iceland, H E Olafur Ragnar Grimsson
Britain is the single most important market for Icelandic cod and judging from the questions and answers at the workshop it is obvious that the buyers are welcoming the recent certification of cod fisheries and they see it as an vital factor in marketing.