Iceland is now on the Michelin star map
28 February 2017
DILL restaurant in Reykjavik is Iceland's very first restaurant to be awarded Michelin star. This is important recognition not only for DILL, but also for Iceland, Icelandic chefs, and the country's food producers that provide local food to the restaurants.
In addition to awarding the first Michelin star to DILL, the 2017 Michelin Guide mentions four other restaurants in Iceland: Grillid at Hotel Saga, Vox at Hilton Hotel Nordica, Gallery at Hotel Holt, and Matur & Drykkur wich received a Bib Gourmand award.  
DILL Restaurant was founded by Chef Gunnar Karl Gíslason and Sommelier Olafur Orn Olafsson; heralded as gastronomic pioneers of a modern take of Nordic cuisine in Iceland. Head Chef Ragnar Eiríksson took over the position when Chef Gunnar Karl Gislason moved to New York to set up the Agern restaurant with Claus Meyer. Agern received its first Michelin star last year.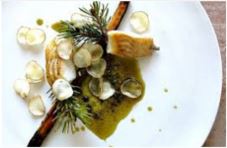 Combining traditional recipes with state of the art methods, the team of culinary experts at DILL Restaurant are constantly on a journey of rediscovering their Nordic culinary roots while exploring new ways to create their dishes. Seasonal ingredients are top of their agenda, particularly with the bountiful ingredients produced by Iceland's land, sea and geothermal growing methods.  
Every week the restaurant devises a new seven-course menu; each dish paired exquisitely with a wine from the restaurant's increasingly discerning wine cellar.
Guests can expect charming clay pots housing mouth-watering delicacies like tusk, kale and black garlic, Arctic char with fennel, and caviar ash egg and dung smoked trout.