Iceland Responsible Fisheries at ICEFISH 22-24 September
22 September 2011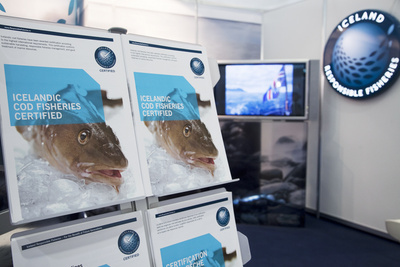 Iceland Responsible Fisheries (IRF) and Promote Iceland participate in the Icelandic Fisheries Exhibition this September, 22-24 (stand #D60). Manufacturers and buyers of seafood from Iceland are especially welcome to learn more about the IRF project, current status of the certification issues, and get practical information on the implementation, and participation in the project.
Book a meeting at stand #D60
For interested parties, we recommend booking a meeting with one of our representatives in advance. The following people are available to meet you during the exhibition:
Mike Platt, Business manager, Global Trust Certification Ltd. (re. Chain of custody certification)
Kristján Thórarinsson, Chair of the Technical advisory board
Finnur Gardarsson, Project manager
Gudný Káradóttir, Marketing manager
To register a meeting, please send an e-mail with requested time and date and with whom you like to meet to gudny@promoteiceland.is.
Lunch seminar: Development in the marketplace for sustainably sourced seafood
IRF will host a lunch seminar on responsible fisheries and market trends on Thursday September 22nd at 12.30 in Turninn Kopavogur (Nítjánda, 19th floor). The seminar is intended for the buyers of Icelandic seafood and stakeholders in the seafood industry (by invitation).
Two prominent speakers will talk about the development in the marketplace for products from responsibly managed fish stocks, trends and cases in marketing under the label of origin (Iceland Responsible Fisheries) and certification mark.
John Sackton, Seafood market analyst and editor of SeafoodNews.com:
Evolution of sustainability in retail purchasing specifications in North America
Peter Vassallo, Founder and owner of Cumbrian Seafood:
Selling sustainably sourced seafood from Iceland to retailers in the UK market
Here you can read more about the lunch meeting, and download a pdf document.
For further information and remarks, please contact Gudny Karadottir, gudny@promoteiceland.is, Tel. +354 511 4000.