Fishmas and Waitrose & Partners — a delicious pairing
2 November 2021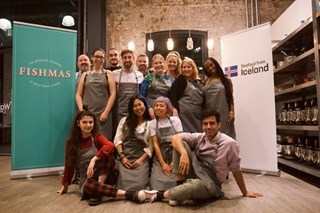 Icelandic cod was recently introduced in collaboration with the British premium supermarket retailer Waitrose. The presentation was part of a joint marketing effort of Icelandic fisheries companies called "Fishmas." Seafood from Iceland is backing the Fishmas marketing campaign, which consists of about 30 companies in fishing, processing, sales, and services to the sector, and the Association of Fisheries Companies (SFS) and Business Iceland. 
Erla Ylfa Óskarsdóttir, a political and consular officer at the Icelandic Embassy in London, presented the Fishmas project and spoke about Icelandic fish, the nation's sustainable fisheries. Several British food influencers were invited to Waitrose Cookery School. A chef from Waitrose demonstrated how to cook a UK menu mainstay — fish & chips with Icelandic cod. The participants were enthusiastic at the event and actively participated by cooking all they could eat fish & chips paired with Icelandic beer. Photos and videos from the event were then shared on the influencers' Instagram pages. 
The collaboration between Seafood from Iceland and Waitrose will mark the beginning of a mutually beneficial promotion of Icelandic fish in the UK. "We were very pleased with the event and the collaboration," said Natalie Mullins, CEO of Waitrose Cookery School. Waitrose is one of the few retail chains in the UK that sells a fresh supply of Icelandic fish in its stores. Waitrose knows the quality of Icelandic fish well and places great emphasis on informing its customers about the origin and quality of the fish. Promotional collaborations such as these are invaluable and, without a doubt, the most successful way to increase awareness of Icelandic fish for foreign consumers.